Fannie Mae * 3. Juli 2003
Breeder: Franz Storms, Waldfeucht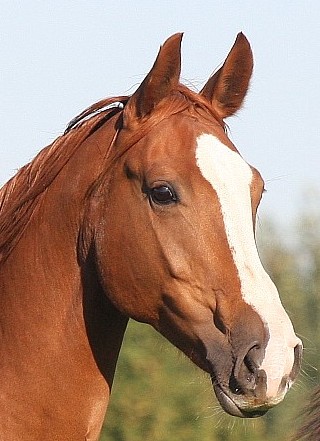 Fidelio Hann.*78
Florestan Rheinl. *86
Raute Rheinl. *79
Fidermark Westf. *92
Werther Hann. *73
Watonga Hann. * 85
Elfe Hann. *81

Frühling Westf. *60
Frühlingsball Westf. *70
Rivalin Westf. *65
Feodora Rheinl. *91
Romanow Westf. *77
Rebecca Rheinl. *80
Mira Rheinl. *76






Fannie Mae in a brief trott-sequence



Self Performance:
Fannie Mae was nominated "Premium Foal" at the foal inspection Heinsberg, July 2003 - Silver Medal
MPT Telgte, June 13th, 2006 - placed 2cd out of 20 mares scoring 7,97
single scores: trott 8,0 canter 8,5 walk 7,5 ridability/judges 8,0 ridability/testrider 8,5 freejumping 7,5
Fannie Mae is the 5th and last out of 5 full siblings by Fidermark, all of them were nominated "Premium Foals" , amongst them auction foals.
Damline:
full brother Fair Play*2002 Champion of the Rhineland Ridinghorses 2005
full sister Fabrice*1998 MPT Telgte placed 1st out of 21 mares scoring 8,39
single scores: trott 8,5 canter 8,5 walk 8,0 ridability/judges 9,0 ridability/testrider 8,5 freejumping 8,0

Progeny:
1. Feb 2007 - Sansibar - licensed stallion by Sir Donnerhall - sold as a stallion prospect to Schockemöhle
Premium Foal and accepted for the Oldenburg foal auction
11. April 2008 - filly by Sir Donnerhall - Sawadee - Oldenburg Premium Foal - sold
6. June 2009 - filly by Rohdiamant - Riva
5. May 2010 - colt by Real Diamond - Rialto Venice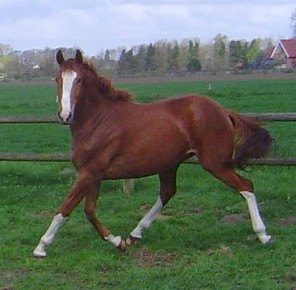 Fannie Mae is full sister to Fabrice and Feodora's last daughter by Fidermark. When she was a couple of days old family Storms invited me to come see her - as it had already become a tradition ever since I had bought Fabrice from them I would come by once a year to visit the next Fidermark-foal by Feodora. .... and I was glowing over this tiny lifewire with huge movements and round canter! what a mover! however, Fannie Mae wasn't for sale intially and -after all- I really didn't need yet another horse to add to my collection... up until the day I recieved a mail from my friend Martina who lives in the Rhineland and she was telling me about a sales foal inspection that had been taken place there, organized by the Rhineland Verband. there she had discovered a most colourful Fidermark-daughter, a real rubber ball with greatest elasticity and gaites like Fürst Picccolo..... this filly was out of a Frühlingsball-dam. that made me perplex - should there really be so many colourful rubberballs of such pedigree around? well - there weren't. and I didn't waste much time to reconsider what I was doing - actually the matter was quite clear: since I couldn't stand the idea that this last filly and fullsister to Fabrice (Fidermark had meanwhile passed away) would end up in foreign hands I had to do it my way. I bought her on the phone without having seen here again. and that's how the story of Fannie Mae began.
my friend Melanie immediately agreed to accompany me on the long way of taking Fannie Mae to her new home by the end of January. Melanie knew exactly about my weak nerves when it came to worry about the transport of the weanling. Melanie was balm to my soul and did a great job calming me down after I had already told her my wierdest ideas of what could go wrong when taking home the filly.... so the day of travel came and it was me and not Fannie Mae who was a bag of nevres. Melanie was in charge of the management while facing the challange of putting Fannie Mae into the trailor, away from her mum. in retroperspective, I was the fellow-passenger only.
Meanwhile Fannie Mae enjoyed two years growing up amongst the mares. She has turned into the most trustful and friendly horse you can imagine, when visiting her out in the pasture with the others she would still follow you step by step asking for some cuddle and care. Actually, that was quiet a funny story when Fannie and Balice were "integrated" to the herd of other mares: usually Ingrid would have an electric cable to act as a makeshift fence between the two weanlings and the rest of the herd - since she was worried the elder mares would do harm to the two youngsters. however, one day she would come out on the pasture to take the horses into the stall for the night and wondered about the cable fence having disappeared - and evenmore so, Fannie and Balice were browsing peacefully amongst the other mares - she couldn't trust her eyes. Ever since Fannie and Balice went out all together with the complete herd and I always consider it a pleasure to see the full crowd deal with each other in the most natural manner. Just the way nature requires a young horse to be integrated into the complete collective.
Every once in a while, however, Fannie causes some exctiment - whenever the electric cable fence is not being plugged in propperly you can expect the colourful bird to sneek through the fence right away seeking for a place of her own in the
neighboured fields...and that usually rhymes like this:


all the horses peacefully eat at home
except for Fannie Mae
since she steals neighbour's corn


Since February 2006 Fannie is in foal to Sir Donnerhall.
In April she moved to the Farwick family to get trained and prepared for her mare performance test in June. I love the idea to see Michael Farwick show her at the SLP, just like he did with her sister fabrice couple of years ago. At Farwicks she quickly made friends with Fleur, another Fidermark.daughter who is being prpeared for her SLP. And again, it was Father Farwick who made me more than happy when he said: "When Fannie and Fleur are out in the pasture together it is simply amazing to see these two move - one is doing better than the other and you really don't know where to look at, first!"

June 13th 2006:
Fannie Mae passes her MPT at record levels:
Michael Farwick rode her in grandest manner and i couldn't leave my eyes off them. She recieverd an 8,5 for her exceptional canter, an 8 for trott and ridability by both, the judges and the test rider, a 7,5 for walk which i found a little disappointing since her walk is of best rhythm and swing and well through the body even under saddle and a 7,5 for jumping (which i can live with ... )
since jumping is counts 2,3 times the total score fell slightly below eigth, so she finished second out of 20 mares with a final score of 7,97.
I think she did very well and i am very pleased about her appearnace and the development she took those past ten weeks at the Farwick barn. We finally took her home with us and she now enjoyes her life at the mare herd again for the rest of the year to hopefully give birth to a healthy foal by Sir Donnerhall early next year...


1. February 2007: this morning Fannie Mae gave birth to a wonderful colt by Sir Donnerhall - and she did it all by herself!
at midnigth there was not a single sign of being ready to foal - in the morning, he was there... Sansibar!

8. June 2007: little Amelie called this moning to let me know: "Fannie carries a new foal in her belly!"
I am excited!
finally, at the third insemination and after having to drive Fannie and Sansibar up to the Schockemöhle stud all the time, she convieved...
I knew it wasn't selfunderstood as Sansibar is a very big foal and as such taking out a lot out of her - however, the vet at Schockemöhle adviced us to separate mum and foal at nigth to make sure Sansibar gets his own food an doesn't need to feed on her so badly - obviously: the concept seems to work!
I hope she is going to keep this new foal and I am more than grateful that Ingird, my "mare's mum", is taking all the efforts to make sure they all get what they need: tons of best quality seperate food and joint days at the pasture with all the other mares and foals ...

11. April 2008: Fannie Mae gives birth to an exceptional filly by Sir Donnerhall: Sawadee - check out this beauty on her own page!

8.8.2008: sometimes wonders do happen...
after years I had finally decided to breed Fannie to Rohdiamant for all the reasons this true stamp stallion deserves recognition:
it took six heat cycles and when i picked her up from the stallion station last time in July I really didn't expect anymore form it... it simply wasn't meant to be, I was sure. So I had already made arrangements to move Fannie to our sport horse barn in Münster in October in order to finally ride and train her until next spring when the next breeding season begins...
but every once in a while wonders do happen:
last night we had a little party at my mare barn owner and she handed out champain to each of us saying:
we have something to celebrate!
I had no clue what she was talking about as I hadn't even asked for the vet to check Fannie anymore on her 18 days ultra sound since I was sure it would be useless anyway - she goes:
"cheers guys! raise your glasses!
Fannie Mae is in foal to Rohdiamant!"

what a wonderful way to communicate such news!

6.6.2009:
Midnight - deep asleep and dreaming.
The phone rings - is it just a dream?
No. But it is about a dream to become true:
Fannie Mae has given birth to a filly by Rohdiamant!
Riva is there!

5.5.2010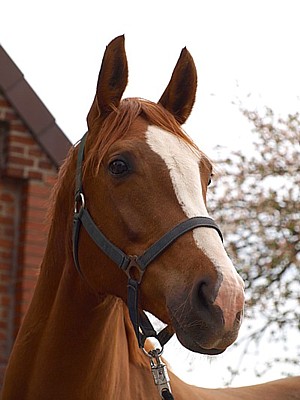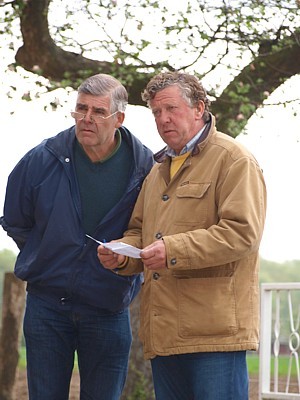 Today was Fannie's "big day" - and she truly turned it into a double sense of meaning...
Already a couple of weeks ago the dutch licensing committee had announced their vist for today to inspect Fannie Mae - since her son Sansibar is stationed at stud in the Netherlands the licensing committee comes around inspecting the respective dams of the stallions who breed in their verband - Fannie welcomed them with her ears tacked flat at her head, baring her teeth... what a warm welcome to the committee!
But she sure had valid reasons to behave that way:
she had given birth to a stellar black colt, her fourth foal, only a few hours before - Rialto Venice!
And with a newborn foal by her side she simply requests respect and distance - I think she is right.
She did show herself from her charming and truly friendly side though after we had taken them both out of the stall so the men could properly look at her.
Very nice people, by the way, and I hain more and more respect for the dutch way of sport horse breeding culture.
If only the german breeding verbands would be so thoughtful about the mares of their licensed stallions, too ...

more photos of FannieMae

more photos of Fannie and Fleur

home