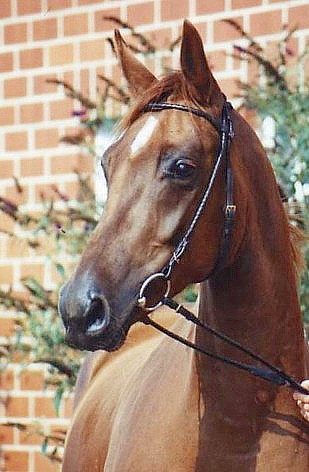 Fabrice * 12.4.1998
breeder: Johannes Storms, Waldfeucht
in cordial remembrance!
Fidelio Hann.*78
Florestan Rheinl. *86
Raute Rheinl. *79
Fidermark Westf. *92
Werther Hann. *73
Watonga Hann. * 85
Elfe Hann. *81

Frühling Westf. *60
Frühlingsball Westf. *70
Rivalin Westf. *65
Feodora Rheinl. *91
Romanow Westf. *77
Rebecca Rheinl. *80
Mira Rheinl. *76


Self Performance:
Fabrice was nominated "Premium Foal" at the foal inspection Heinsberg, July 1998 - Silver Medal
MPT Telgte, June 13th, 2001 - ranked 1st out of 21 mares scoring 8,39 - highest score given that year!
single scores: trott 8,5 canter 8,5 walk 8,0 ridability/judges 9,0 ridability/testrider 8,5 freejumping 8,0
Summer 2003: various show class successes in all disciplines (dressage, jumping, eventing), amongst them ranking first at the Telgte young horse combined dressage/jumping class scoring 8,2

Damline:
full sister Fannie Mae is the 5th and last out of 5 full siblings by Fidermark, all of them were nominated "Premium Foals" , amongst them auction foals.
single scores: trott 8,0 canter 8,5 walk 7,5 ridability/judges 8,0 ridability/testrider 8,5 freejumping 7,5
full brother Fair Play*2002 Champion of the Rhineland Ridinghorses 2005

Progeny:
April 2002 - QRage, filly by Quattro B, Oldenburg premium foal (put down due to uncurable injury)
April 2005 - QRage II ("Happy"), colt by Quattro B, Oldenburg premium foal - sold as a stallion prospect (winner of material class age 4)
April 2006 - QRage III, colt by Quattro B, Oldenburg premium foal - sold as a stallion prospect (winner of young horse dressage classes A, L and M age six!)
April 2007 - La Jeanne, filly by Laudabilis (Hannoverian) - sold
May 2008 - Lan Thao, filly by Laudabilis (Hannoverian) - sold to the Netherlands
April 26 2009 - Biscaya, filly by Belissimo M (Hannoverian) - not for sale
May 22 2010 - Brisant, colt by Belissimo M (Hannoverian) - sold as a stallion prospect
May 2 2011 - Sabary, filly by Sarkozy s(hannoverian) - sold
since July 2012 in foal to Duisenberg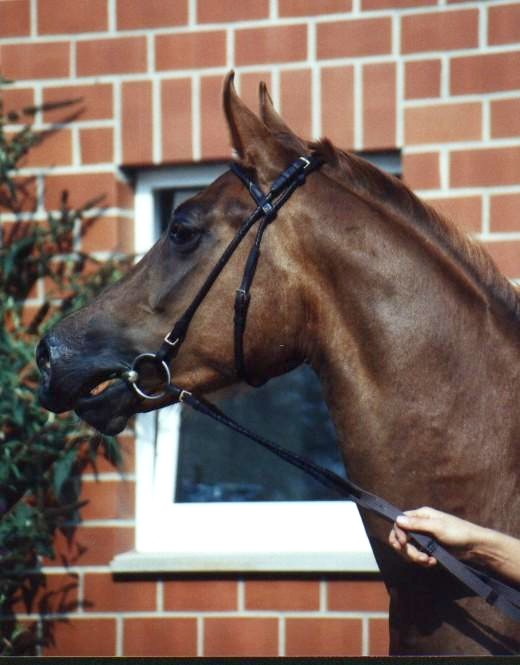 the story of Fabrice commences long before her birth. I still used to live in Frankfurt (federal state of Hessen) and thus was pretty cut off from anything that took place in "horseland" Germany. up until the day a somewhat unknown westfalian state stud rider caused a furore on a stallion of a kind that had rarely been seen before in Warendorf: Fidermark became Bundeschampion under Michael Farwick. to be able to watch these two perform together was eye candy at it's best. balm to the soul of the horseman. not seldomly I had tears in my eyes when I saw the two of them harmonize in the dressage arena together - and that was exactly their common secret: they simply harmonized with each other. Westfalia hadn't been able to wish for any better advertising medium than these two, engaging everybodies sympathy for them. with respect to the advertising aspect of it I became immediately addicted: a daughter of this very Fidermark was what I aimed for, possibly resembling the type and expression of her sire in any extend.

that's how I came to Fabrice shortly after. the visit at the foal inspection in Heinsberg –it was the last Fidermark-dominated foal inspection in that area in the Rhineland, afterwards he moved to Warendorf for good- shouldn't leave me without baring the consequences. we had just gotten of the car when the winning premium foal of one of the filly-rings levitated out of the arena accompanied by the loud applause of the spectators. I couldn't have imagined any better daughter of Fidermark in my dreams - she looked exactly how I would have thougt of "my" Fidermark-filly - type, expression, look, equipped with the sire's most elastic trott, rhythm and cadence, a face to die for and all of that coming with a neckset that made some of her fellow-colts fade with envy. I didn't waste any time and simply rushed after her - a week later she was mine.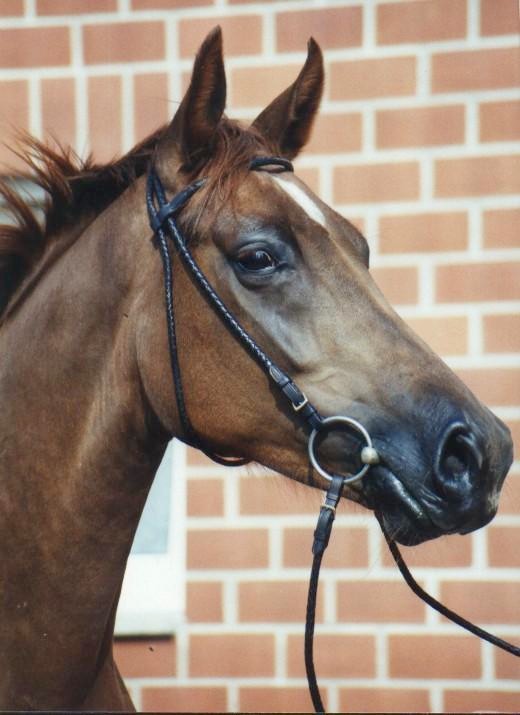 when I moved back to Westfalia later on it was clear to me from the very first moment that there could only be one trainer for Fabrice and me: Michael Farwick. many times when I saw the two together it seemed as if he would still be riding his Fidermark. an impression that I shared with many others, the response of many spectators spoke for itself. so I was more than happy when Michael decided to show Fabrice himself at her mare performance test (SLP) when she was three. the association to Fidermark lived up even there at the SLP and people would ask Michael about "his" Fidermark daughter. and I was even more delighted when Fabrice won the SLP outstandingly scoring an 8,39 - quoting one of the judges: the highest score given in Westfalia up to date! unnecessary to mention that at that day tears of joy rained heavily on me....

at that point in time Fabrice had already been in foal to Quattro B. there has never been any alternative to this stallion for me. these two, Fabrice and Quattro, are so much alike and contribute to each other in every respect: type, upperline, neckset, expression, rhythm, push and swing. my breeding philosophie was: strengthen common strenghts and weaken any weaknesses. it had to be a stallion who matched her in all the dominating features - only than it would be likely that even the common foal would be blessed with all these favourable attributes. furthermore Quattro has never been an outcross to Fabrice in my eyes. rather the contrary is the case: via his sire's damline he goes back to mighty old Furioso himself, the same Furioso who is founder of the nowadays oh so popular westfalian F-line via Florestan Fideleo Furioso who can be found in Fidermark in third generation.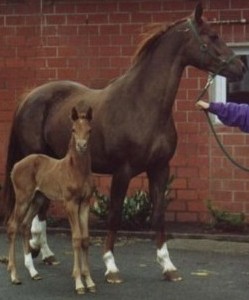 in April 2002 Fabrice gave birth to QRage, a filly,
exactly what I had wished for.
QRage had gotten the best of both her parents:
Quattro had even managed to provide her with his superb
uphill canter and little QRage would fly over Farwicks pastures.

QRage was the eyecatcher in Farwicks breeding barn.
whenever there were visitors Father Farwick would never
leave it to anybody else to take out these two at first himself:
my heart was laughing.

in July at the foal inspection QRage would still trott into the premium ranks
of the Oldenburg inspection comittee despite already being accidentally hurt.
in September I had to put her to sleep due to the irreparable damages
of the accident. it broke my heart to let her go.

it took two years before I was ready to breed Fabrice again. and of course I picked Quattro again.
during these two years I competed her in sports myself. she won her very first combined dressage&jumping class, again scoring an outstanding 8,2! various high rankings in dressage horse classes added to this success, even though we never managed to score any higher than 7,8. however, my greatest pride are Fabrice's performances in jumping: whenever I went to jumping or eventing training lessons with my holsteiner Shannon I took Fabrice with us. Since I had to ride her anyway, why not ensure she would learn something new and useful while with us?
far from being a jumper by nature Fabrice did so well in the training that I competed her in our first indoor eventing class in January 2004. she mastered the course of 18 inviting but highly demanding fences immediately with a clear round. and I was so proud of my little dressage-queen!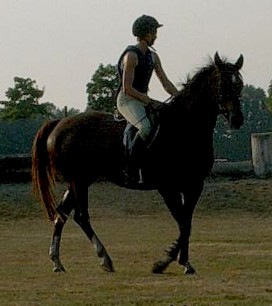 yellow ribbons (winning ribbons) were given to us later on of all things for jumping: scoring 7,9 and 8,1 Fabrice would carry me convincingly through style jumping and hunter classes. we immediately became fourth amongst more than fifty competitors in the first ever german hunter class, a pilot project that took place at the Wolbeck riding club in May 2004. however, if anything, Fabrice is NOT a jumping horse. she heavily lacks techniqiues and bascule. but she is full of spirit and toxin - usually in the converse order... and this is a higly explosive mixture specially on warm-up areas. so I owe it primarily to the most consequent school Fabrice took me through that I gained a lot of saddle-confidence and riding-ability over the last two years. in the jumping arena and the cross however these are the predominat factors that make her succeed with envy and tenacity - a more than welcome
change for a most demanding dressage horse.
In May 2004 she was supposed to be competing at her last eventing show - she absolved the training for that with great success. however, the competition took place without her since at that point in time she was already barned at Team Nijhofs in the Netherlands in order to breed her again to Quattro.
in April 2005 she gave birth to Happy - a little image of his sister QRage three years ago, just slightly more substance and extremely highleggish. Happy confirms all my hopes and expectations in Quattro being the perfect nick to Fabrice - which is the reason I spontaneously bred her to Quattro again this year despite all my former plans to take her back to our riding arena and compete her in sports. she got in foal to him at the very first attempt and I consider that a positive omen! so now I am looking forward to Fabrice's third foal by Quattro in May 2006 - little princess, you really make me happy!

In April 2006 Fabrice had her third foal by Quattro B - just another stunning little colt quiet in the shape and type of his two full siblings before - QRage III !
Meanwhile Fabrice has been bred to Laudabilis but it simply didn't look like a succesful insemination as the follicle wouldn't disappear for more than a week. so today we were ready to check her again for a new cycle, we thought we'ld better start checking early as risk is high you miss her cycle completely.
what can i say? I had already planned on taking her back home as a riding horse over winter shouldn't she get in to foal this time and Fabrice must have smelled that there was work threatening - so she focused right back on her comfortable life as a broodmare and surprised us with an already positive pregnancy result this morning! So now Fabrice is in foal to Laudabilis since June 3rd and makes the fourth out of four broodmares in foal this year! what a wonderful foal season to look forward to in 2007!

In April 2007 Fabrice gave birth to her fourth foal, a bay filly by Laudabilis - her name is La Jeanne.

The presence and beauty of La Jeanne was breathtaking from the first moment on - I have never had a foal before of such strong personality and impression. La Jeanne will be growing up at our barn and my hopes are high for her to become my future broodmare to maintain and develop Fabrice's damline, a mare family that has proven its most exquisit quality to me in many respects after having had five foals by three different sires out of Fabrice and her full sister Fannie Mae. I do consider myself very lucky having picked Fabrice back than when she was a filly herself, just having followed my gutt-feelings ... The decision to buy her full sister Fannie Mae was another very spontaneous "go" and today - 4 years later - has proven to have been another very lucky decision, too:
by no means was I thinking of starting my own breed with the two of them - the idea was to ride them both in sports... but getting more and more involved in sport horse breeding things simply developed themselves and both my Fidermark-mares have proven to be some precious broodmares and I am more than grateful to consider these two "my own" - and it must have been purest luck as I doubt I already knew how to fully value the two of them in full respect when I bought them - it was the sheer idealism about Fidermark that drove me back than and the generous idea of keeping his heritage alive.
Today, I guess, I am really keeping his heritage alive in a way I never thought I could - and I owe it entirely to Fabrice and Fannie Mae and the luck I had listening to my gutt-feeling back than...
Today, however, I also hope I have learned more about horse breeding and bloodlines as I owe it to both my mares to replace sheer gutt feeling by careful thoughts and considerations when looking for the "right" stallion to breed them to. As I am fully aware of the fact that no matter how great both their quality to produce might be, they can only do that much, the perfect contribution to fulfil what these two provide for will always remain "stallion's business" - and I can only hope that I will be able to do no lesser than "good" in the future as I did before when choosing "the right" stallion for them - as there is a lot to loose given the exceptional quality Fabrice and Fannie Mae quite obviously provide and I simply owe it to them to do no lesser than good...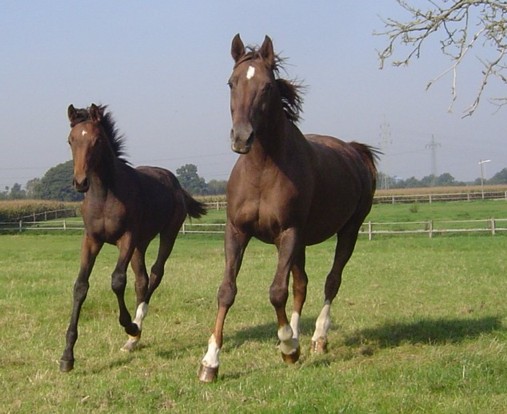 Fabrice and La Jeanne in September 2007


4. March 2012

No heat cycle? Use a natural weapon!
After having foaled her eigth's stunning foal last year (Sabary by Sarkozy) Fabrice strongly resisted to get back into heat that summer. We surely tried everything possible and had the best equine vet advisers working with us, providing Fabrice with all kind of inducing medication you can think of. Fabrice, however, remained stubborn declaring all those chemicals useless. No heat that year - no foal this year.
So in order to convince my precious broodmare Fabrice to the better this year I decided to use my most efficient natural weapon instead:
Silas!
Thus, Fabrice has moved to our Münster barn this weekend where my riding horse Silas, the most wonderful and charming gelding you can imagine, received order to take over. Silas sure did his very best, and most efficiently so:
It didn't even take him a single day to turn Fabrice on - in the true sense of the meaning of the word. Fabrice showed signs of heat immmediately and the two spend every day together in the field. A visible strong cycle of ovulation has already set in and she will be bred again with the next cycle. So hopes are high that next year we can be expecting a foal again by Fabrice - thanks to Silas and his wonderful preparation: broodmare stimulation at it's best! These pictures truly speak for themselves (Click on photos to enlarge):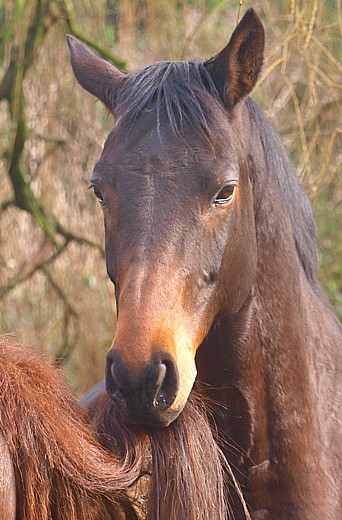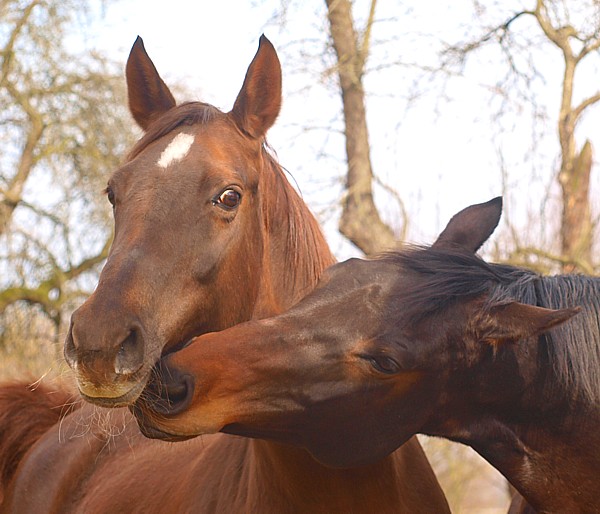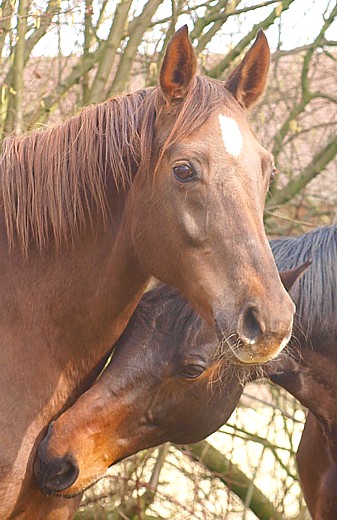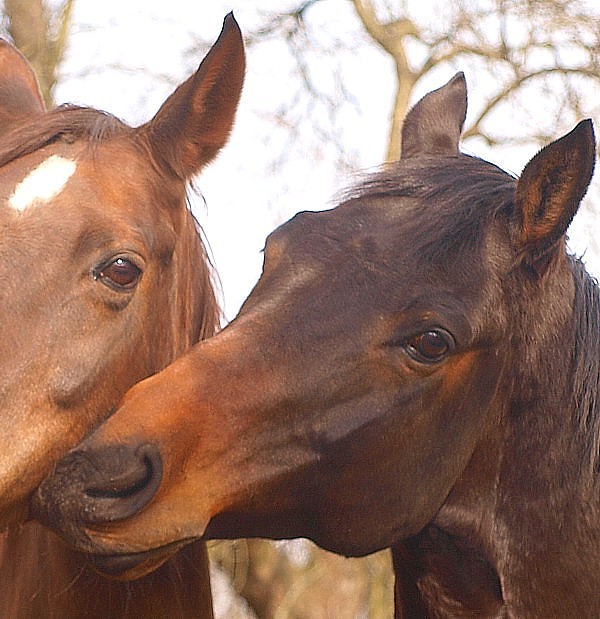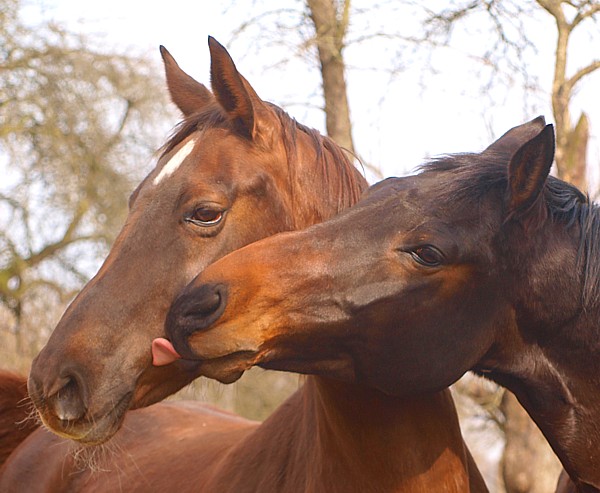 When Silas is taken over no female heart can resist! (click to enlarge photos)



23. August 2012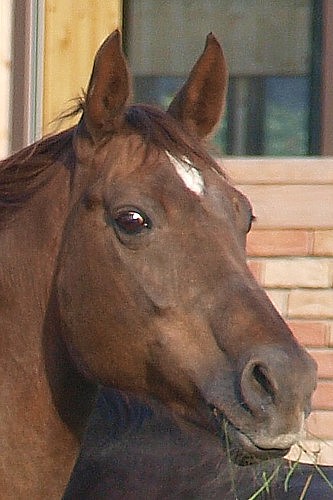 Fabrice is in foal again!
Fabrice is of foal to Duisenberg and I can't believe it's true... Finally, it has been worth all the efforts of a desperate breeder and what it takes to keep the most precious broodmare in business...
The story of six month hosting a broodmare in her luxurious (and expensive...) city appartment "uptown münster" side by side to the most charming gelding you can think of (my riding hore Silas) has been completed sucessfully!
"Sex&the City" and Fabrice gave Kerry Bradshaw at her best all summer near Silas.
Finally, after six months and a lot of support by Dr. Ahlswede, Fabrice performed the magnificent metamorphosis from Kerry to Miranda, so to speak...
With Silas' stimulating help, Fabrice developed visible cycles again. And I greatly appreciate Dr. Ahlswede's flexible timing, help and advice suiting a breeder who needs to apply a full-time-job in the office in order to fund breeding&horses in the first place. Dr. Ahlswede (our most experienced equine vet, who happens to live just across the street from our Münster barn) allowed for me to carry Fabrice over to him any time early in the morning prior to work or after work, countless examinations.
With Dr. Ahlswede's help and patience we finally managed to get her into foal again.
Most wonderful news to me and the most welcome reward for a desperate breeder who leaves nothing untried!



25. 2.2013

Fabrice's double!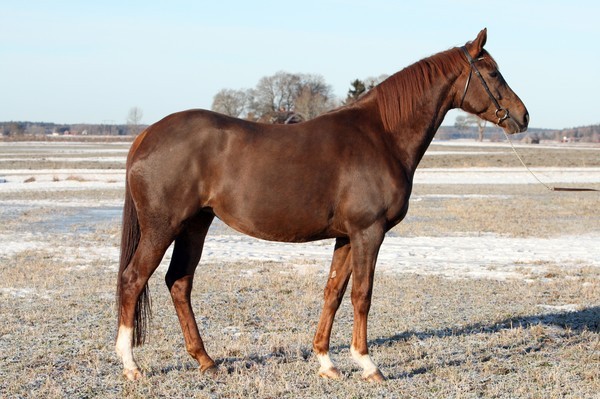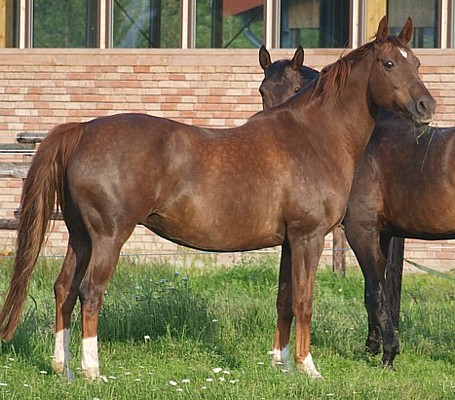 ... one could think...
Indeed, this is Fabrice's 5 year old daughter Lan Thao by Laudabilis (left picture), who is expecting her first foal in Sweden this spring.
Simply amazing, how much daughter and mother look alike. Guess that's what you call a broodmare who truly stamps her get...
The right picture shows Fabrice at 14 years of age having had eight foals.